Planting (and some replanting) is complete, and it's time to make some important in-season decisions for your crop! And because FARMserver stores all your planting data, you can now put that data to work. If you don't have a planting monitor, you can manually add your planting date and relative maturity data for each field into your account.
Once you have your planting data into FARMserver, the new Crop Growth Model will track the progress of your crop, field by field! You will see what growth stage each of your fields is at based on planting date, maturity, and how many GDUs each field has accumulated. From there, FARMserver will project future growth stages based on forecasted weather and climatology data. You can also turn on the last 24 hours of rainfall and see where you need to point the truck or the tractor in the morning. Are you worried about hitting the correct timing for your sidedress applications? Take a look at your field map to see which fields need to be sprayed first and which ones can wait another three to five days.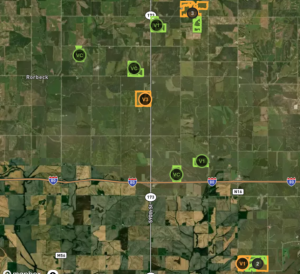 GROWTH MAP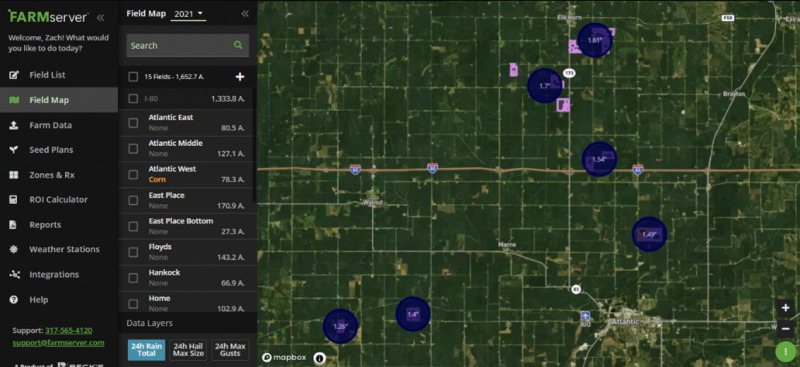 24 HOUR RAINFALL
Tracking your crop's progress is great, but once you identify an area in the field that needs to be evaluated (replant, insects, disease, nutrient deficiency), you can utilize the Scouting Note tool in the FARMserver app to pinpoint the areas that need your attention—no more wondering where you were at when you saw that thin spot or the cutworm damage. Simply open the app, drop a pin, or have the app follow your location. You will then know where to keep an eye on the rest of the growing season.
Using the Growth Model and GDU Accumulator, you can determine at what time the crop's lifecycle you will need to start scouting for certain insects, diseases, and nutrient deficiencies.
Whether you're making a replant decision, deciding the timing of a sidedress application, or just out in the field evaluating different hybrids and want to know which one you are standing in, FARMserver can help you track all of your notes and your crop's progress throughout the growing year.
"What you measure tends to improve." – Francis Beck