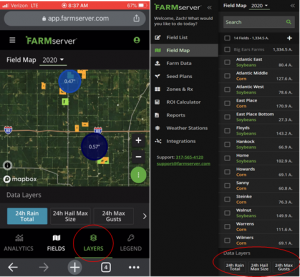 New FARMserver feature alert!  We have a new 24-hour weather feature that will display regionalized data for rain totals, max hail size, and maximum wind gusts.  These annotations get more precise the further you zoom in on your Field Map.  This feature will allow you to prioritize scouting and field work based on moisture and wind events in the last 24 hours.  Located under the field names in the "Data Layers" pane, this feature is only available in the current calendar year.  When viewing the FARMserver website on your mobile device, the option will show up on the bottom side of your map once you have the Layers tab selected.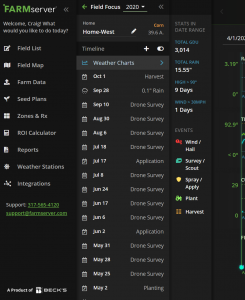 Also, historic weather data is still in FARMserver in the Field Focus view.  There will be a "Weather Chart" tab underneath the field name that will give you rainfall amounts, min/max temperatures, GDU accumulations and a timeline of events for any given field in the selected crop year.
Harvest season is one of the best times of the year.  Viewing yield data in FARMserver is key to evaluating decisions made in 2020, as well as making decisions for your 2021 growing season to come.  Whether you have "Integrations" set up to view your data live, or if you will be uploading your data in the "Farm Data" tab, please feel free to give a call to your Seed Advisor or Regional FARMserver Specialist to assist you with either one of these options.  We are here to help you succeed!
By Zach Christianson | Regional Precision Technology Specialist