Beck's is excited to announce that it's precision farming platform FARMserver® has partnered with Sentera to simplify the process of uploading drone imagery into FARMserver. Users will no longer have to rely on tagging screenshots of drone captures to their scouting notes. If you are flying with Sentera's FieldAgent, uploading your images is now easier than ever before.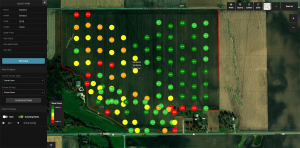 Just in time for the 2019 scouting season, FARMserver users can now transfer all their monitor data and their Sentera drone imagery into their account. Using the Integrations feature in FARMserver, simply link your two accounts together for a seamless wireless transfer of your data and images. Each night, FARMserver will then pull any new uploads from FieldAgent into your account. Quick tile maps, weed density analysis and even your stand count analysis will all automatically transfer into FARMserver for use in queries, scouting notes, and more.
There is so much power in drone imagery in agriculture, especially when it comes to monitoring crops. Perhaps you have a field showing signs of water damage, but it's difficult to quantify the affected acres. With the use of Sentera, you can fly a field, stitch the images together, and create a map with real, actionable data. This map can help determine acres affected, can serve as a reference layer for yield queries at the end of the year and can even be used as a background image in FARMserver's scouting app.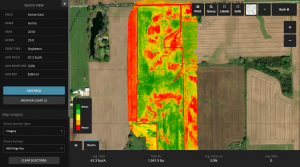 In field stand counts are crucial when determining planter performance, field productivity potential and replant decisions when necessary. For example, with Sentera's plant population analysis users can map out a 100/A. field and fly it at a 50-ft. altitude, taking photos every acre. Those photos can then be submitted for analysis and, in less than an hour, you will receive a stand count of every acre flown. That's real data, with no cherry-picking or human bias. And it provides users with a quantitative representation of their field for more fact-based decision making.
To celebrate this exciting new partnership, Sentera is offering a discount on subscriptions to all users, only if their FARMserver account is linked to their Sentera account. For a limited time, purchase a subscription for the reduced price of $500/year and gain access to their easy-to-use software. That means you can try out the Stand Count Analysis and Weed Density Analysis on unlimited acres for the entire year! Typically, these analysis cost $0.25/A. per flight, so this unlimited promotion offers huge savings.
Want to learn more? Check out Sentera's FieldAgent their website: https://sentera.com/fieldagent-platform/. For questions on FARMserver or for assistance is syncing your two accounts, visit www.farmserver.com or call our Support Team at 317-565-4120.
We're excited for this new partnership and look forward to helping you with your drone imagery needs!