As June approaches, much of the Corn Belt has surpassed 60% of the corn planted and roughly 50% of the soybeans. We now face the final stretch of the planting season. Many of us have seen strong, low-pressure systems bringing much-needed rain to some otherwise droughty conditions. Some have encountered severe rainfall, which produced ponding and potentially replant scenarios. Whatever weather patterns you are experiencing in your area, it is important to know what is happening in your fields, and the alerts and notifications from FARMserver can help with that!

In response to the significant number of requests we've received, we've added the option for FARMserver users to add additional phone numbers and/or email addresses to their accounts to receive valuable weather data and crop growth alerts. Account alerts can now be sent to all members of your farming operation. Here's a closer look at how to add additional recipients.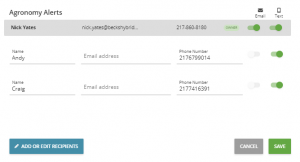 To sign up for multiple phone numbers or email addresses, simply click the "add or edit recipients" button under the notifications tab, select "add recipient," and then fill in the provided boxes. If you wish, you can add multiple names, and once this is complete, select "done" to save those names in a list. This allows all recipients you've entered to receive alerts from FARMserver. These notifications include PFR, Agronomy, Weather, and High-Priority Situational Alerts. You can customize each recipient's preferences so they only receive the alerts they want. 

While we are pushing toward the end of the 2023 planting season, there's still a long growing season ahead of us. Don't forget to use FARMserver's Crop Growth Model to track your crop's progress and make timely agronomic decisions that can help boost yields on your operation. To add more notification recipients or to upload your planting information, please visit www.farmserver.com today. 
Nick Yates | Regional Precision Technology Specialist