The wait is over to figure out what fields had how much wind, hail, and most importantly RAIN! But not just how much it rained: how much in the last 24 hours, since planting, and how much this year. FARMserver uses scoured radar generated rainfall amounts to accumulate the 24 hour, and date range totals, BUT if you have a Davis Instruments weather station, you can integrate with FARMserver and we will prioritize that data for any field within 0.5 mi radius of that station.
Having the ability to track when and where storms hit that bring high winds and hail enables us to scout fields more efficiently after those events. Knowing how to correct issues if possible or alert our partners who ensure our crops is a big benefit of having your fields in FARMserver. We will automatically track rain, wind, and hail on every field boundary you have in your account. Make sure you sign up for morning alerts for weather events and FARMserver will send them directly to your phone or your email inbox!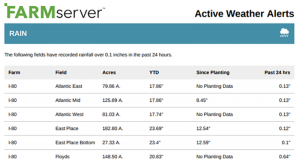 Getting these reports sent to your email or to your phone as a text message is simple:
Log in to FARMserver
Click on your name at the top right-hand corner
Click on "My Account" then click "Notifications at the top"
Check the boxes of which alerts you would like to receive!
You will also see above the weather alerts the option to edit any of your PFR/Agronomy alerts

Weather is the source of all the things that make agriculture so difficult. We are entirely dependent on how much water and heat our crops get at what time. Tracking these things is crucial to understanding how we can be more proactive rather than reactive to help ensure our crops best yield. Because of this, be on the lookout for the next update on alerts from FARMserver! We are working hard with our PFR and Agronomy teams to put together PFR and Agronomy alerts that will be based on weather events that happen in YOUR FIELDS.
We want to make sure our farmers succeed and helping them with managing something so important but out of our control is one of the best new ways we are trying to help!
Zach Christianson | Regional Precision Technology Specialist