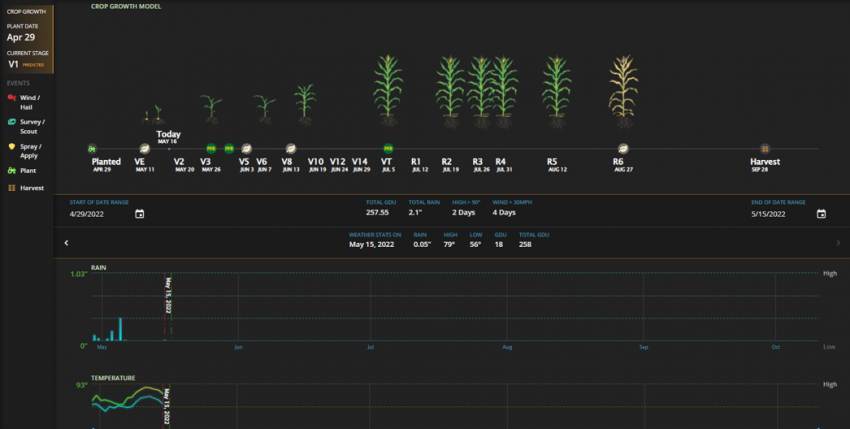 With the month of May dwindling down, planters, field cultivators and anhydrous toolbars are cruising throughout the Midwest in a race to get this year's crop planted. These can be hard times as the "marathon" of spring planting can wear down even the most experienced of us. Certain areas of the region have been blessed with favorable planting conditions, while others are still battling muddy fields and last-minute nitrogen applications. However, we cannot lose focus on what is left to be loaded into the planter, or the progress of the crops that are already emerging from the ground. FARMserver has the tools to keep you informed about every acre of your operation, ranging from weather alerts, viewing planting information, to tracking your crop's progress with the Crop Growth Model. Let's take a closer look.
The Crop Growth Model, which is located under the Field Focus level, can not only predict the current stage of your crop, but also when it will be approaching crucial stages for side dress and fungicide applications. Why is this important? Utilizing Agronomic and Practical Farm Research (PFR) alerts, our Crop Growth Model will help you stay engaged on your farming operation, while having the information to go to the field to correctly identify crop progress. Timing these operations is important to maximize yield potential and protect against diseases such as Tar Spot. We have built informative articles into this model with tips and timing practices based on crop stages that are sent to your phone, ready whenever you need them. As you can see below, we are tracking GDU's, rainfall totals and weather events from the planting date to enhance the model's accuracy.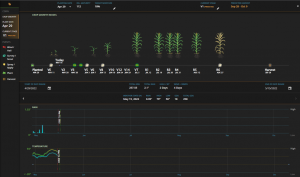 A new feature for this year is our ability to edit the current growth stage. This allows you to calibrate the model based on the crop's progress. Located at the top, there is a pencil icon under "current stage" where you can change those stages as needed, while offering changes in planting dates and notes based on a replant situation. Also, don't forget to edit your crop's maturity at the top! All the maturities will be set at a default value, not specific to the hybrid or variety. One more way to edit your maturities is under "Fields & Farm Data," then select the three dots in the top right-hand corner and select "change planting information."
Here at Beck's, we continue to provide the best tools to help farmers succeed in their operations. FARMserver is another way for you to stay connected throughout the year. If you have any questions, please contact your local Beck's representative or check out our website at www.farmserver.com for more information.