In-season crop scouting is the proactive way of getting your questions at harvest time answered. Questions like, "why is this spot in the field yielding 20 bushels less?" Getting your boots-on-the-ground during the growing season is the best way to get these answers.
For instance, the scouting notes you take in the beginning of June might show sidewall compaction or anhydrous burn. Being able to log and keep track of these notes can be confusing and time-consuming, but FARMserver® is here to help! Instead of juggling notebooks, pens, and phones in the field or trying to find flags and stakes weeks or even months later, you can use FARMserver's Scout Note feature in the iOS app.
When you are in Field Focus view in the app, there is an option to add an event using the "+" at the bottom of the screen. A menu will then pop up allowing you to add a scout note with a pin icon (Figure 1). You then have the option to hand draw polygons or use the "Follow" feature which will track your in-field location and create a polygon using your phone's GPS (Figure 2).
After you have created the area you wish to highlight, you can enter your scouting information for crop type and growth stage as well as notes, pictures, and information on any weeds or pests you are seeing. Hitting save will then prompt FARMserver to generate a clickable pin (Figure 3) and PDF report (Figure 4). Any and all notes created in the app are specific to that field and growing season.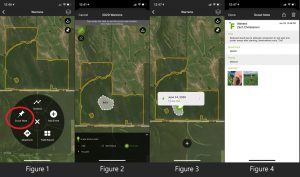 To aid in scouting efficiency, any uploaded planting, application, tillage, or soil sampling data for the current growing season is available to use as a background image while scouting. Change your planting attributes and ground truth your field by planting rate or hybrid. Use your sprayer data to check any test strips or fungicide trials you did. The opportunity to view and create events in a mobile and geo-referenced form will add efficiency to your scouting program and value to your operation.
In-season scouting can give you the answers you need when you are making decisions during the growing season as well as analyzing data at the end of the year. Easy to use tools such as the FARMserver app is just one of the ways Beck's continues to help farmers succeed.
If you have any questions about the scouting app or other ways FARMserver can bring value to your operation, feel free to reach out or contact your local seed advisor or dealer.
By Zack Christianson | Regional Precision Technology Specialist