Harvest time is a busy time, but FARMserver® is here to help keep you stay on top of your data game! Beck's just recently announced a new feature to FARMserver that will be available for the 2019 harvest season; automated yield reports.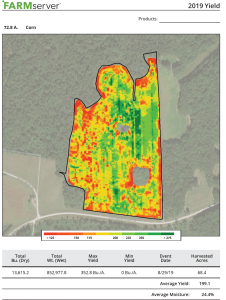 Each Saturday morning, FARMserver will automatically send an email to the account owner with a summary of the prior week's yield maps. These maps display average yield, harvested acres, average moisture, and so much more. Not only will these reports include individual yield maps by field, but there will be a complete summary of all 2019 harvest data to date at the end of the report. Simply click the link in your email to view the maps, save them out as a PDF, or print them off! The choice is yours.
In order to run these harvest reports, users will need to upload their data into FARMserver through the user-friendly interface. Monitor data can be exported to a memory stick and with a simple zip of the file, it can be uploaded into FARMserver through the data feature. With FARMserver's matching process, your data will be sorted and all harvest points matched to the existing boundaries in your account. You can also use an iXpand™ Flash Drive and add your data to your account through the FARMserver mobile app. Tutorial videos for both upload options are available in FARMserver's Help Center.
A third option to get your data into FARMserver is through the Integrations feature. Users can link several different cloud-based accounts to FARMserver. Accounts include FieldView Plus™, MyJohnDeere, and Ag Leader AgFiniti®. You can find the Integrations button on the left side of the dashboard.
These new Automated Harvest Reports were developed based on feedback from customers and are just one more example of Beck's dedication to Help Farmers Succeed. Don't have a FARMserver account? No worries. Premium memberships are available to all Beck's corn and soybean customers at no charge. Visit www.farmserver.com or call Trevor at FARMserver Support at 317-565-4120 to get started.